Data Management for on-premise private clouds. Cost Optimized. Real time. At scale.
We have partnered with ioFABRIC to bring our customers a data management solution that will combat the cost and complexity of data storage.
Xenium and ioFABRIC will transform your local storage into a true on-premise private cloud. Get all the economics and ease of use benefits of cloud storage, but for your own local systems. With this solution you will:
Improve utilization by 25%, resulting in minimal capital spend
Save 22% of your time on storage provisioning
Automate the sys admin's tasks, saving 50% of their workload
Meet your legal and regulatory requirements ensuring data is secure and stored where it needs to be
No more costly over-provisioning or forklift upgrades every 3 years – just simple, cost-effective management of your storage.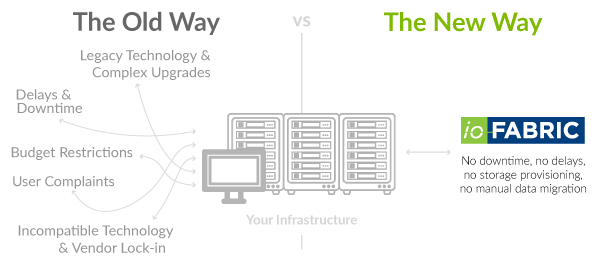 Want More Information on ioFABRIC?
Xenium has installed ioFABRIC at a municipal office. The results are in:
Reduced capital expenditures for hardware
Improved performance speeds
Secured data and established a disaster recovery plan
Decreased IT time for manual tasks